Dancers:
Our dancers and musicians bring life to our authentic flamenco performances. It is through their dedication to our art that we can share the rich history of Gypsy flamenco throughout the Denver-metro area and the Colorado front-range.
Diane Lapierre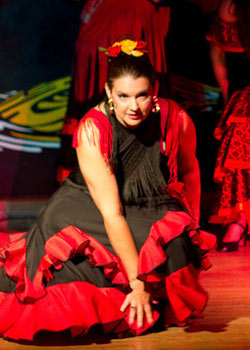 La Diana began studying flamenco with René Heredia in 1996 after her sister returned from Seville and found the maestro living in Denver. In the years since, La Diana has come to love the depth and breadth of the music and dances, its complex rhythms, and the beauty of the flamenco art form. She has performed with René in California, Kansas City (the sister city of Seville) and throughout Colorado for close to twenty years. Before studying flamenco, La Diana spent many years dancing ballet, jazz and modern.
La Diana's signature dance is the rumba flamenca. It is a fun and lively dance that is part of the flamenco repertoire that comes from the Caribbean islands. Spanish sailors would go to Cuba, Dominica and Puerto Rico and play flamenco rhythms and take back the musical influences from the African and indigenous cultures. The rumba flamenca is a perfect example of this form, known as cantes de ida y vuelta (roundtrip songs).
Suzanne DeAtley
Suzanne DeAtley has been performing flamenco with René Heredia's Fantasy Flamenco Dance Theatre off and on for nearly 12 years. Maestro Heredia was Suzanne's first and principal teacher, although she has also studied with Adriana Maresma Fois in Jerez, Spain. Suzanne was drawn to Flamenco because of the art form's passion and elegance, and the range and depth of expression. She enjoys performing with Maestro Heredia and loves his historical Gypsy connections, his experience, his deep love of the music, and his heritage. In addition, as a performer she appreciates that he "encourages his dancers to jump in with both feet and learn to performing by doing it."

Mila Popovich
Mila Popovich has over twenty years of international dance training and performing experience in a variety of dance forms, ranging from folk dances from the Balkan Region to Afro-Brazilian and Middle Eastern. She was drawn to the unique expression, power and grace of flamenco and says, "It celebrates life in its full emotional range and gives expression to the depth and breadth of human condition and experiences." Additionally, Mila is fascinated by the way flamenco combines diverse cultural roots in a blend of artistic expressions. Mila has studied flamenco with Maestro Heredia for ten years and is interested in the intricacies of rhythms and modes, syncopation and the possibilities of rhythmic embellishments in the both the music and the dance. Mila is honored to share the stage with René Heredia who she describes as a "living legend" and "national treasure.
In addition to performing with the Flamenco Fantasy Dance Theatre, Mila performs regualrly as an experimental dancer and poet collaborating with Denver's leading artists and lectures on the origins of Middle Eastern Dance and culture.
Mina Popovich
Mina Labudovic is a student at Grandview High School, where she is an honors and AP student. She was introduced to flamenco through her mother, Mila Popovich. She appreciates the complexity of flamenco and wants to experience and experiment with the cultural richness of the art form. Mina received a performing arts scholarship from the Board of the Flamenco Fantasy Dance Theatre in 2016 that has allowed her to study with Maestro Heredia and perform with the company. Mina is passionate about animal rights and social change. She is multilingual – speaking English and Serbo-Croatian and studying Spanish. She sees her future in studying law and theater and continuing to excel in dance and volleyball. Mina values her opportunity to study and perform with Maestro Heredia as he in an authentic flamenco master.
Monica Perez
Monica Perez became fascinated with flamenco dance and music the first time she saw a live performance in Seville, Spain. After completing her graduate degree in piano performance at the University of Colorado she turned her focus to flamenco. She researched all the flamenco teachers in Denver, and found René Heredia. Monica immediately joined his studio because she wanted to develop her musical and performance skills in the beautiful art form of flamenco dance from the best. After a few years of study, she joined the company in performing group dances and is now a featured soloist. She has been dancing with the Flamenco Fantasy Dance Theatre since 2006 and finds the technique, the emotion, and the passion expressed through flamenco dance "absolutely captivating".
Monica believes that Maestro Heredia, "has something special that cannot be learned or taught. It is in his DNA. He grew up with his brothers and sisters in the heart of the flamenco culture in Spain. He has performed with absolutely the most influential flamenco dancers and musicians of this century. Not only is he a world-renowned flamenco guitarist, but with his extensive experience, he is also a wonderful choreographer".
Musician:
Rick Pruitt
Rick Pruitt has taught and performed guitar for over twenty-five years. He was only sixteen when he first met Maestro René Heredia in Albuquerque, NM. In 1980, Rick moved to Colorado to study music at the University of Colorado, Boulder, as well as study privately with René. At his first lesson, René told Rick he could teach him all kinds of flamenco songs and falsetas, but that the proper way to study the guitar was to master technique. After putting in eight hours a day, the next week Rick could play everything René had given him during that first lesson. From then on, René taught and shared the cante jondo and gypsy techniques of Flamenco guitar with his young student.
Later, Rick moved to Florida to finish his degree in classical guitar performance. After moving back to Colorado, Rick has kept in contact with René for many years. Rick was honored to join the Flamenco Fantasy Dance Company as second guitarist. Rick says, "René is one of the great flamenco guitarist of our time, and playing in his dance company is the fulfillment of a dream I've had since I was a teenager."