An intimate evening of sultry, seductive Gypsy flamenco music and dance with Maestro René Heredia and his Flamenco Fantasy Dance Theatre
Friday, April 21, 7:00 p.m.
Caffè Sole
637R South Broadway, Boulder, CO 80305
COST: $15 cover charge, food and drink is à la carte.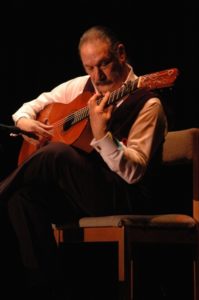 Fiesta Flamenco with René Heredia and his Flamenco Fantasy Dance Theatre brings the heart and soul of Spanish gypsy flamenco to the stage, complete with colorful costumes, fans, castanets, stomping feet and fiery passion.
The audience will be carried away to the caves of the Sacromonte in Granada for an evening of sensuous flamenco dancing accompanied by gypsy guitar magic.
The intimate setting of Caffe Sole is ideal for artists to perform the highly expressive dances, seemingly an arm's length from where guests sip wine at their cozy tables.
Comprised of Denver's best dancers and award-winning guitarist, Artistic Director, and "Godfather of Flamenco" Maestro René Heredia, their performances convey the mystery, emotion and soul of authentic gypsy flamenco.
Be prepared for an evening of passion, power, music and dance! Olé!
Caffè Sole, Boulder's only jazz supper club, has a very affordable, excellent, mostly Italian menu of small plates and entrees and a good wine and craft beer selection.
Because Caffè Sole is an intimate venue, dinner reservations are recommended for Fiesta Flamenco to get a table and enjoy some fine cuisine. Dinner is at 6:00 pm, showtime is at 7:00 pm.
Reservations are only made through email, not via telephone. Send your reservation request to Caffesolereservations@gmail.com with your name, number in party, date and time of your arrival.
Reservations are only offered for full dinner service and cannot be made after 4:00 pm the day of the show.
For more information visit Caffe Sole online.