Enjoy an intimate evening of authentic Gypsy flamenco music and dance with award-winning guitarist René Heredia and his Flamenco Fantasy Dance Theatre.
Sunday, May 21st
doors open at 6 pm, show at 7 pm
The Clocktower Cabaret
1601 Arapahoe St., Denver, CO 80202
Tickets: $25
The audience will be carried away to the caves of the Sacromonte in Granada for an evening of sensuous flamenco dancing accompanied by gypsy guitar magic.
The dimly-lit, seductive setting at Denver's beloved Clocktower Cabaret is ideal for artists to perform their passionate dances seemingly an arm's length from where guests sit at their cozy tables.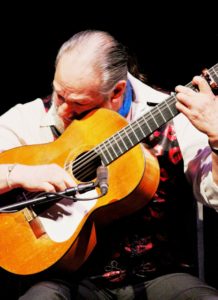 Comprised of Denver's best dancers and award-winning guitarist, Artistic Director, and "Godfather of Flamenco" Maestro René Heredia, their performances convey the mystery, emotion and soul of authentic gypsy flamenco.
Gypsy Flamenco Passion brings the heart and soul of Spanish gypsy flamenco to the stage, complete with colorful costumes, castanets, stomping feet and fiery passion.
Be prepared for an evening of passion, power, music and dance! Olé!
Tickets: $25 in advance and at the door
Tickets available at Gypsy Flamenco Passion